Cool Math Games Fireboy And Watergirl HTML5 Game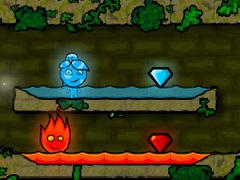 Description
:
Cool math games fireboy and watergirl, is a good combination between fire and water. The clever combination between fireboy and watergirl will help you conquer the mysterious labyrinth and get lots of blue, red diamonds. This game has many levels with different levels of difficulty so that the more you play the more attractive.
By using the keyboard to move Fireboy and Watergirl avoiding the lakes and watergirls avoid the fire pits, collect the diamonds, reach the door and escape the maze.
+ For Watergirl, use the combination of A, W, D keys to move:
Use the A key to move left
Use D to go straight or move right.
Use the W key to perform a long jump
+ For Fireboy, use the arrow keys to control the character:
Use UP ARROW KEY to perform long jump
Use the left arrow key to move left
Use the right arrow key to go straight or move right.
Have fun playing the game.